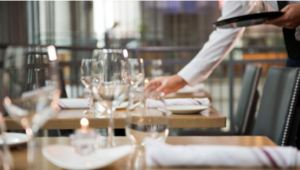 Hospitality industry is ruled by guest-centric experience, which focuses on creating a good customer experience. Customers are likely to repeat /recommend the restaurant when they undergo a positive experience, therefore meeting and exceeding guests' expectations is not only paramount but a very critical step to gaining loyalty, a good reputation and repeat business.
The foodservice industry is becoming increasingly competitive, which means restaurants cannot solely rely on the quality of their food and customer service. The need to maintain high standard of cleanliness to encourage positive reviews and repeat visits is now more crucial than ever. 
Restaurants present unique cleaning challenges as both front-of-house (FOH) areas like restrooms, dining areas and bars and back-of-house (BOH) areas like kitchens and storage areas have their own specific cleaning needs. Implementing a comprehensive cleaning schedule, using effective highly experienced cleaners can help restaurants uphold their reputation.
Our wealth of experience from working with Chessington World of Adventures Hotel & Resort, Paradise Green Restaurant, Ruya London Restaurant, and our understanding of the importance of hygiene within the this industry will always ensure the highest standards of cleanliness is maintained in and around the entire facility.
We offer flexibility for changing business needs to accommodate peak and non-peak periods without the added cost of permanent cleaning staff on your payroll.
Get in touch today for your free no obligation quote